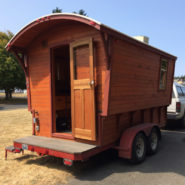 2017: The Joyful and the Oyful
What a year it was, full of both joy and oy. Here are some highlights (and a couple of lowlights) from my year.


Joyful: Women led a movement


The Women's Marches held everywhere across the country on January 21 set the tone for a year of popular protest. Millions of people–not only women–marched for human rights, health care, immigration reform, environmental advocacy, and a host of other issues dear to my heart. I was an enthusiastic knitter of pink hats, all of which wound up on marchers' heads in Washington State. (Below, I model one of them.) Everyone knows that marches alone won't be enough to improve our world, but women didn't just go to a march and call it good. They're lining up in droves to run for public office, and they're showing their clout at the ballot box. That's citizenship in action, and it gives me some hope.


Joyful: 45,000 words
After years of neglecting my writing, I decided to nurture it. Got a big chunk of my novel completed. Win!


Oyful: An unstable summer
The lease ran out on our winter rental–the owner wanted to put it on AirBNB for the summer at peak-season rates–and we spent several months without a stable place to live. That really sucked, but at least my husband and I had resources that allowed us to go camping, stay in motels, and wait until a long-term rental came up that we liked and could afford. Our area, outside of Seattle, suffers from a severe shortage of affordable housing, and AirBNB (much as I love it) tends to exacerbate the shortage by making homes unavailable for long-term rental. We felt the housing shortage this summer more than we wanted to. Not much writing got done. But, as I said, we have resources and could have made a different choice. We could have settled for a place that didn't tick all our boxes, or moved out of the area entirely. Instead, we chose to tough it out and wait for the right thing to come along. Many people don't have that option.
Ouchy: Snap, crackle, shatter
A week into the camping adventure, I took a spill in the dark and shattered my wrist to smithereens. People must have wondered what the ambulance was doing, creeping through the campground at 11:00 p.m. One more obstacle to completing my novel. Caving to my inner Pollyanna, though, I choose to focus on . . .
The silver (actually purple) lining
Did you know that casts nowadays come in a variety of beautiful colors? Also, if you're lucky, you can obtain merino socks to match, and your favorite local yarn shop will allow you to pose in them on their beautiful back porch . . .
. . . and also to pose the baby blanket you'd managed to complete Before the Fall. There's a small sign inside the yarn shop that proclaims: Nobody here is an asshole. I wish more businesses and public institutions would adopt this as their motto. While we wait for that to happen, here's the baby blanket, a gift for the truly joyful part of this story: my third grandchild, who was born over the summer:
Joyful: Gypsy wagon class
I spent a stellar weekend at the Port Townsend School of Woodworking, learning how to build an authentic vardo (also known as a Gypsy wagon). A character from my novel is building a vardo, and now I can write knowledgeably about how that is actually done. Believe it or not, I even feel confident that, with only a little extra coaching, I'd be capable of building one of these. That's something I'd love to do someday. Here's a beautiful vardo hand-built by one of the instructors, who was kind enough to bring it to class one day so we could all get a close-up look. With a tiny marine woodstove, and a desk instead of a bed, wouldn't this make a sweet writing studio?
Still more joy
At last, we found a lovely house to rent, and moved in in September. And although my broken wrist delayed my travel plans, I did finally get to go and see my family on the east coast. Beautiful grandbabies, adorable Halloween costumes, and (after the kiddies were in bed) more than a few glasses of wine hoisted as the raconteurs extraordinaires of my family gave me enough source material for another decade's worth of stories.
But . . .
One last little oopsie
While I was on a field trip to do research for the novel and a new cycle of short stories, this haunted house actually reached out and stole my keys right out of my pocket as I picked my way through the undergrowth. At least, that's how I explain what happened. Poor me! All alone, thousands of miles from home, with dusk falling, a locked rental car, and no keys anywhere. Oh, and ghosts. Did I mention ghosts? I made a silent promise to write with sensitivity about the cascading downward spiral of events that might cause a prominent family to let a mansion like this go to wrack and ruin. Long story short, the house eventually gave me my keys back, and all was right with the world once more.
Wrapping it up on a high note
Made it back home safe and sound. Received an amazing birthday present from my sister: handmade elf slippers with jingle bells on the toes. I recorded this video to celebrate. If you look to the left of the fireplace just as I'm saying "slippers," you can see the headlights of a van pulling out of the driveway. That's the plumber's van. He'd just installed a new water heater, forestalling an imminent flood downstairs. Hot showers all around! Happy, happy New Year!
* * *

My current work in progress, We Still Have Us, tells the story of a seventeen-year-old girl in upstate New York who's caught between poverty and privilege, dreams and duty, past and future. You can read more about it here. And for writerly updates, news, and commentary–and a free short story!–subscribe below to my newsletter.